Mengatasi laravel.log could not be opened in append mode.
Setelah projek selesai kita buat locally di PC / laptop. Saatnya upload ke hosting.
Ada beberapa metode upload ke hosting. Yang umumnya digunakan adalah :
FTP, biasanya menggunakan aplikasi filezilla. Cocok untuk upload projek yang file-file gambarnya juga perlu diupload bersamaan.
SCP, jika menggunakan scp sebaiknya folder dicompress dahulu baru diupload. Setelah terupload, diuncompress.
GIT, metode paling efisien. Cukup push dan pull :D.
Metode – metode upload diatas akan dijelaskan di artikel terpisah.
Lanjut …
Saat upload folder project laravel ke hosting, biasanya kita akan mendapatkan error seperti ini :

The stream or file "/var/www/foldername/storage/logs/laravel.log" could not be opened in append mode: Failed to open stream: Permission denied The exception occurred while attempting to log:
Error seperti diatas muncul karena folder ownership & permission storage & cache yang belum disetup.
Cara mengatasi laravel.log melalui setup folder storage & cache
Buka terminal, lalu cd hingga posisi sudah di dalam folder projek (dalam contoh ini, nama foldernya hadidapi).

Folder yang perlu disetup ownership & permissionnya adalah storage dan bootstrap/cache. Jadi, ketikkan
sudo chown -R $USER:www-data storage [enter]
sudo chown -R $USER:www-data bootstrap/cache [enter]

Command diatas adalah untuk setup ownership. Setelah ownership selesai disetup, selanjutnya setup permission dengan ketik :
chmod -R 775 storage [enter]
chmod -R 775 bootstrap/cache [enter]

Selanjutnya refresh website untuk melihat hasil setup yang sebelumnya sudah dilakukan.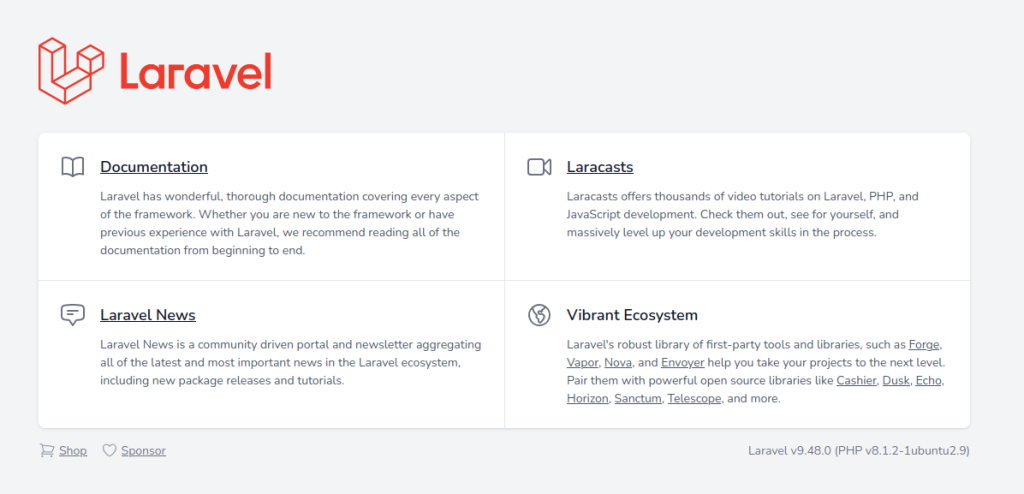 Yup, website sudah berhasil ditampilkan.
OS yang digunakan untuk tutorial ini adalah Ubuntu Desktop 22.04. Seharusnya panduan diatas bisa digunakan juga untuk ubuntu versi lain.
Untuk penjelasan lebih detail in english, bisa klik disini.
Semoga membantu.
Untuk setup migrations laravel bisa cek link berikut : Migration di Laravel